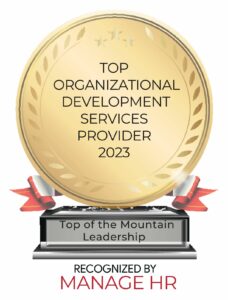 I am very excited to announce that my firm, Top of the Mountain Leadership, has been recognized as one of the top Organizational Development firms in the US for 2023. For nine years, my firm has been working with a multitude of businesses, large, mid-sized, and small, to tackle their biggest human performance challenges. We have learned a lot during this time, and I appreciate everyone who has become a part of my network over the years. One thing I know for sure is that leadership and employee expectations have changed significantly in the last three years. We are navigating what seems like endless waves of uncertainty and change. I'd like to share some ways I've been helping organizations climb the mountain of success.
In the modern business landscape, mid-sized companies often find themselves at a pivotal crossroads. While they possess the agility that larger corporations might envy, they also face unique challenges when it comes to digital transformation, leadership evolution, and navigating change. These are not mere buzzwords; they hold the key to a company's future adaptability, competitiveness, and success in an ever-changing marketplace.
Why Every Mid-Sized Company Should Prioritize Organizational Development 
Bespoke Solutions for Unique Challenges: Every company has its own set of strengths, challenges, values, and objectives. Generic solutions often miss the mark. Tailored organizational development strategies, on the other hand, resonate deeply, driving meaningful and lasting impact.
Mastering Digital Transformation: In a world where digital prowess can set industry leaders apart from laggards, embracing the latest technologies and cultivating a culture of digital adaptability is paramount. This ensures companies remain at the forefront, innovating and setting the pace rather than just keeping up.
Cultivating Next-Gen Leaders: Leadership, today, is not just about strategic decisions but about inspiring and guiding teams with vision and empathy. Investing in leadership development and executive coaching equips key personnel with the tools they need to steer their teams toward success, especially in times of change.
Human-Centric Change Management: True transformation is always about the people. Successfully managing change involves aligning, engaging, and empowering every member of the team. A holistic approach ensures everyone is onboard, understanding their role and the bigger picture.
For businesses grappling with these areas, seeking external expertise can be a game-changer. At Top of the Mountain Leadership, we specialize in turning challenges into growth opportunities. With a dedicated team that understands the nuances of mid-sized businesses, we're here to guide, support, and collaborate with you on your journey toward lasting success.
Final Thought: In an era of rapid change, resilience and adaptability are more valuable than ever. With the right partner, every challenge faced can indeed become a stepping stone to greater achievements. It's time to unlock the true potential of your organization.